Anyone who has been to Yamagata International Documentary Film Festival should watch Pickles and Komian Club (Maruhachi Yatarazuke Komian, 2020). Anyone who has yet to visit Yamagata should watch this film. I guess that means everyone should watch Pickles and Komian Club!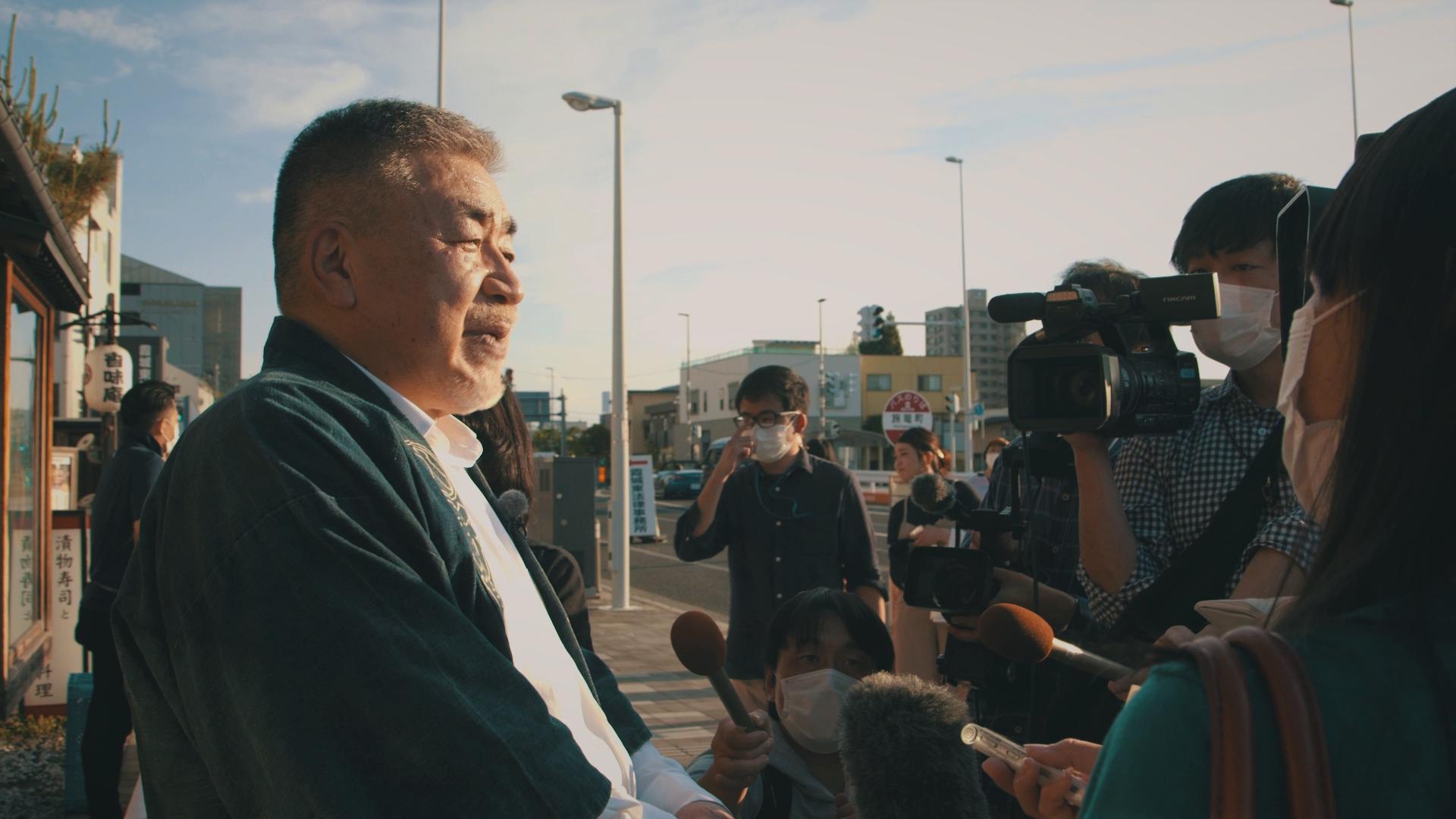 This is a documentary about a tsukemono-ya—a pickle shop/restaurant—near Yamagata's City Hall, its history, its central role in Asian documentary film culture and, sadly, its demise. My first festival back in 1991 was incredibly exciting. I was busy most of the day and night tending to my own program commemorating the 50th anniversary of Pearl Harbor. We ran films and symposia from morning to pretty late at night. And when we wrapped up each evening, it was time to kick back and relax. But there were two problems. The first was that Yamagata is no Shibuya, so shops and restaurants start shutting down regrettably early. The second was that what was open was pretty expensive. This was particularly true for the independent filmmakers from other Asian countries.
The festival recognized this as a problem and set to work on it. Gearing up for the next festival, the staff in Yamagata announced they had an idea. A local tsukemono-ya wanted to invite the entire festival to hang out after the films ended. It was a brilliant idea, and soon became one of the hallmarks of the Yamagata International Documentary Film Festival—it soon became the heart and soul of the festival.
Film festivals are racked by hierarchy, and the bigger the festival the harder it becomes to penetrate the inner realms. I realized that at my first film festival job, the Hawai'i International Film Festival in 1988. At the time, Hawai'i was known as the place to go to see the latest Asian films. It was packed with scholars, programmers and filmmakers from across the region. As an intern, one of my tasks was to help create and manage the large fundraising operation that kept the festival not just running, but free to the public.
This was my first introduction to film festival hierarchy, as the more money one gave the more access one had to special events where the famous guests were put on parade. This was most palpable to me at the opening night party, where the festival's filmmakers rubbed elbows with the wealthiest donors around Jack Lord's swimming pool beneath Diamondhead. The festival's slogan—When Strangers Meet—felt a bit disingenuous to me, since the ticket to that glitzy party depended a lot on which gifting level you came in at.
A few years later, I had a chance to visit Berlin International Film Festival in my capacity as a programmer. It came as something of a shock to learn that my badge got me free films and not much else. I couldn't visit the market, though the researcher in me was dying to experience it. I was invited to one reception, but none of the others I heard about. Like all the big festivals, one's distance from the seductive center of things is determined by the color of one's badge. And if you don't have a badge, then the festival positions you as mere consumer of tickets.
Yamagata was different.
And the difference was most obvious at the Komian Club. It opened at 10:00 each evening, and no matter what direction you approached from you'd bump into other festival people with the same goal. By the opening time, there was always a small crowd. Everyone mingling and chatting in anticipation. When they opened the doors, everyone filed in past huge tubs filled with sake and beer. For a 500 yen coin, the cheerful staff would hand over a drink and a snack. Within the hour, the place was packed with festivalgoers.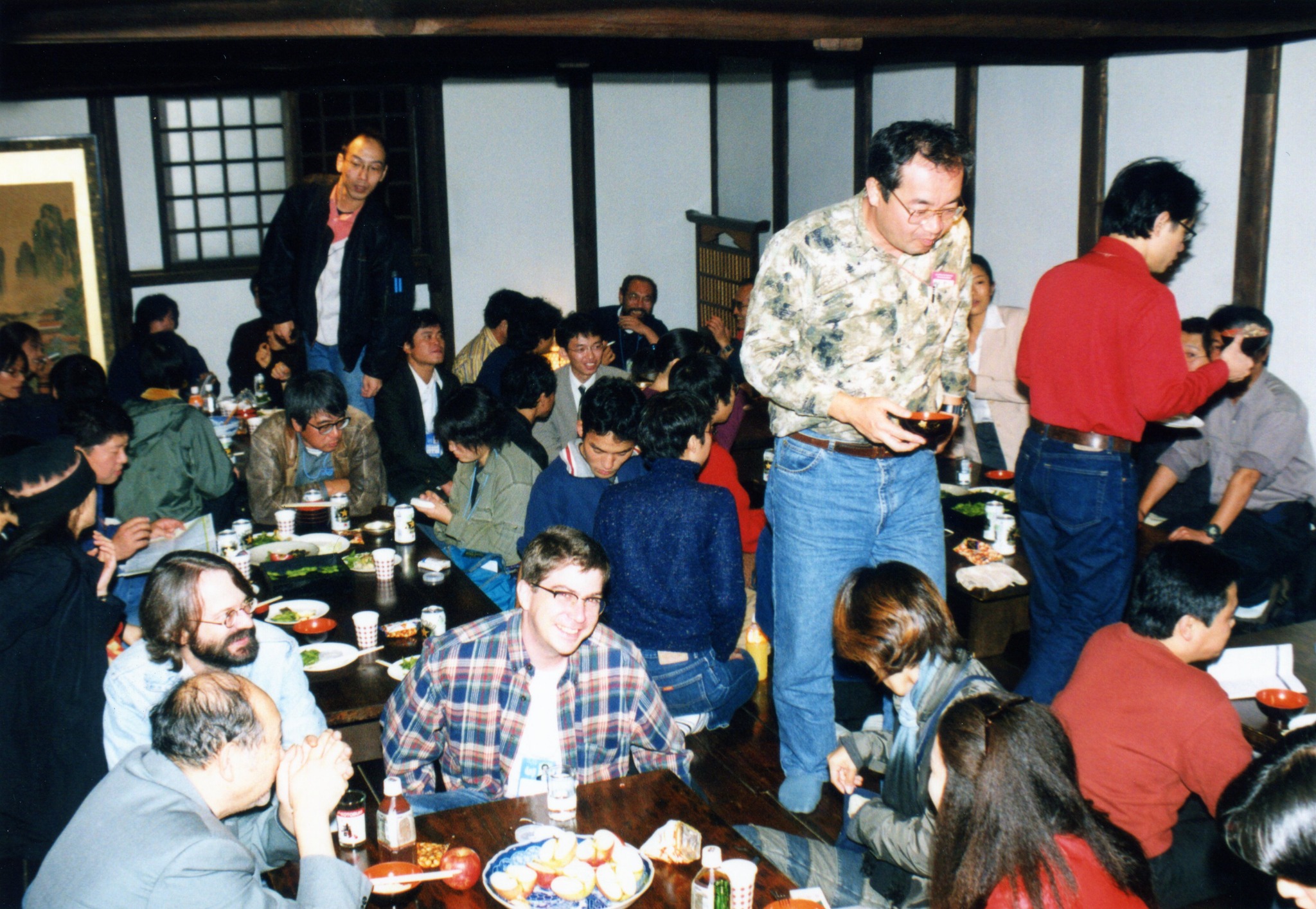 The space beyond was riotous and complex. Maruhachi Yatarazuke was over a century old. The facility was essentially a collection of old buildings all connected together. After receiving a drink, one faced a long, narrow hallway. It was like a gauntlet, forcing one to weave in and out around people, friends new and old stopping you to chat every few feet. Off to the right was a large room with tables. A bit further down, a staircase led to platform covered with shoes and a big tatami room beyond. To the left of the stairway was the kitchen, where more staff busily prepared food.
A bit beyond this was a long room with a few more tables. I always loved the decorations in this room; it had huge wooden vats, ancient farm implements, and not quite as ancient skis. These included a pair of venerable Olin Mark IVs, which I skied on during my childhood in Colorado—as it happened, Yamagata and Boulder are sister cities, another reason I came to love it). Behind this room were the bathrooms, and more secret corners where people would stand and chat.
By 11:00, every nook and cranny was filled with people from around the world. Staff brought out big pots of imoni, a luscious potato soup Yamagata people cook every fall. Some people would station themselves at a particular corner. Others circulated from room to room, conversation to conversation. Still others held court at one of the tables as friends played musical chairs. It was a wonderful, moving spectacle.
But what was truly special about Komian is that it was open to anyone with a 500 yen coin. Every night all the filmmakers, programmers, scholars, film fans and citizens of Yamagata—the entire festival—converged on this traditional pickle factory. Of course, there were still hierarchies because we're human; but through Komian, the festival created a temporary space where everyone was in it together. They watched films all day and then talked about them all night at Komian Club.
Strangers met, created relationships, and in this way Yamagata helped spin a vast network of connections between independent artists and producers across Asia and beyond to the world.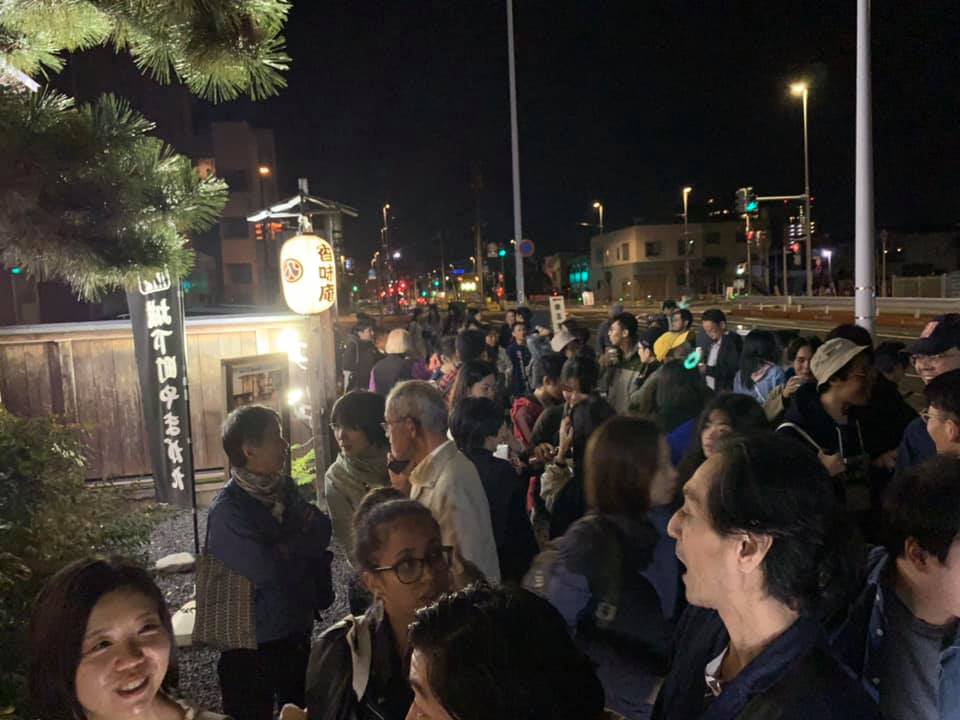 Tragically, Maruhachi Yatarazuke became a victim of the pandemic. In 2020, after 135 years in business, they closed their doors. Incredibly, the new owners tore down the beautiful old building, to be replaced by an apartment block. A boring one, I'm sure. But I'm told that the festival staff are hunting for a new space to gather in 2023.
Sato Koichi's lovely film memorializes both the pickle factory and its special role at the Yamagata International Documentary Film Festival. He also introduces us to the spectacular mountains of Yamagata and a bit of its food culture. It's a film that, yes, everyone should watch!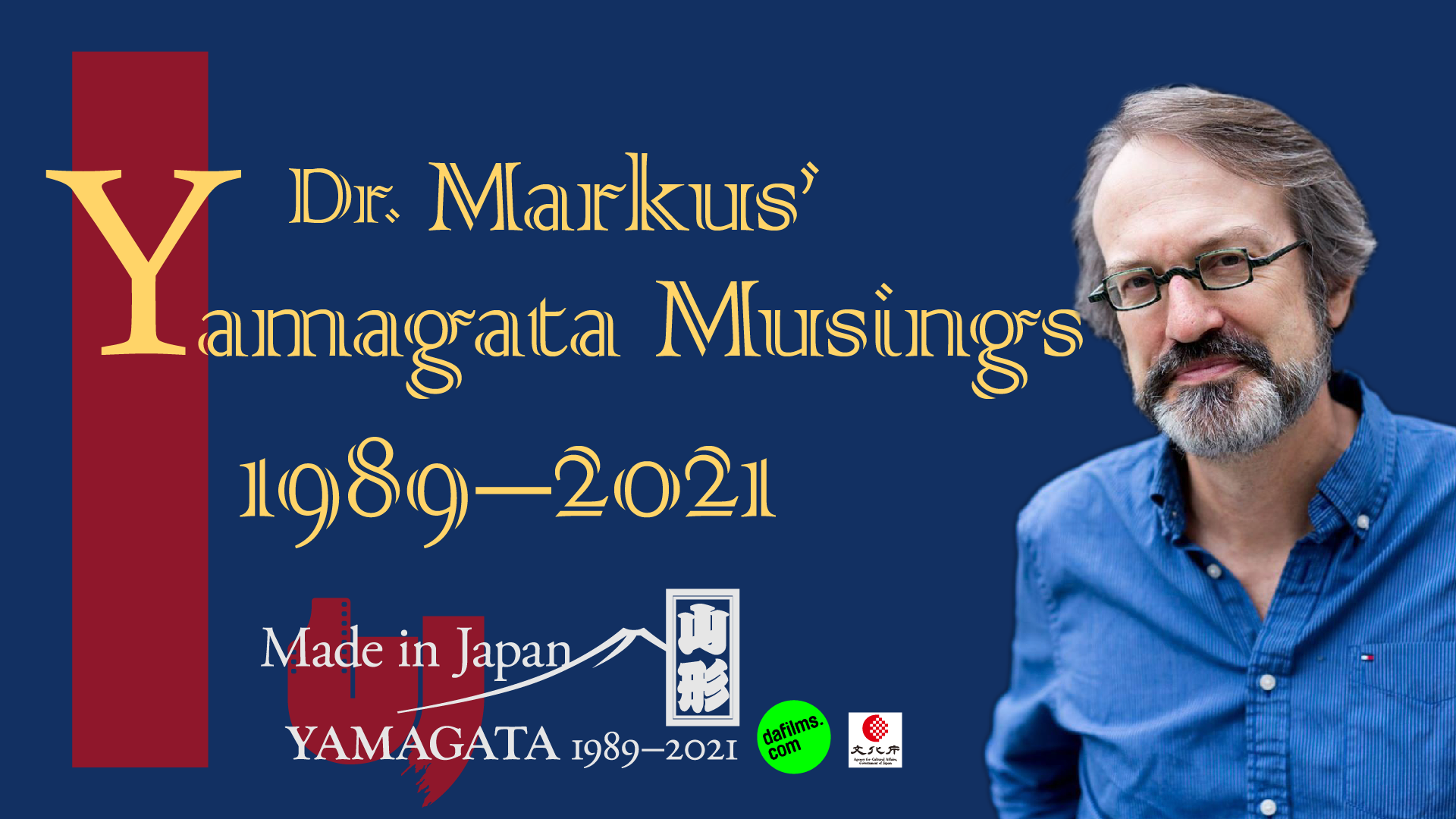 Markus Nornes is Professor of Asian Cinema at the University of Michigan, where he specializes in Japanese film, documentary and translation theory. He was a programmer at YIDFF in the 1990s and beyond, and has also made films. His current book, the open access Brushed in Light, is on the intimate relationship of calligraphy and East Asian cinema.
http://www-personal.umich.edu/~nornes
マーク博士の山形あれこれ:
http://www.yidff-live.info/tag/drmarkusyamagatamusings/
第1回『映画の都』監督:飯塚俊男/1991/ YIDFF '91 特別招待
第2回『阿賀に生きる』監督:佐藤真/1992/YIDFF '93 優秀賞
第3回『A』監督:森達也/1998/YIDFF '99 ワールド・スペシャル・プログラム『A2』監督:森達也/2001/YIDFF 2001 特別賞、市民賞
第5回『新しい神様』監督:土屋豊/1999/YIDFF '99 アジア千波万波
最終回『うたうひと』監督:酒井耕、濱口竜介/2013/YIDFF 2013 スカパー! IDEHA賞
Dr. Markus' Yamagata Musings
(1) A Movie Capital Dir: Iizuka Toshio / 1991 / YIDFF '91 Special Invitation
(2) Living on the River Agano Dir: Sato Makoto / 1992 / YIDFF '93 Award of Excellence
(3) A Dir: Mori Tatsuya / 1998 / YIDFF '99 World Spetial Program, A2 Dir: Mori Tatsuya / 2001 / YIDFF 2001 Special Prize, Citizens' Prize
(5) The New God Dir: Tsuchiya Yutaka / 1999 / YIDFF '99 New Asian Currents
(6-final) Storytellers Dirs: Sakai Ko, Hamaguchi Ryusuke / 2013 / YIDFF 2013 SkyPerfectTV IDEHA Prize