Higuchi Genichiro—The Mysteries of Life, the Micro Universe
Screenings at the Yamagata Documentary Film Library present documentaries and movies rarely shown on television or in theaters, including works from the Film Library vaults.
14:00- 19:00- (screens twice)
Secret in the Hive("Joobachi no Shinpi")
1962/16mm/33 min
The Life Cycle of Cellular Slime Mold("Saibosei nenkin no seikatsushi")
1982/16mm/15 min
Behavior and Differentiation of Cellular Slime Mold("Saibosei nenkin no Kodo to bunka")
1991/16mm/21 min
The Life History of Slime Molds("Shinsei nenkin no seikatsushi")
1997/16mm/28 min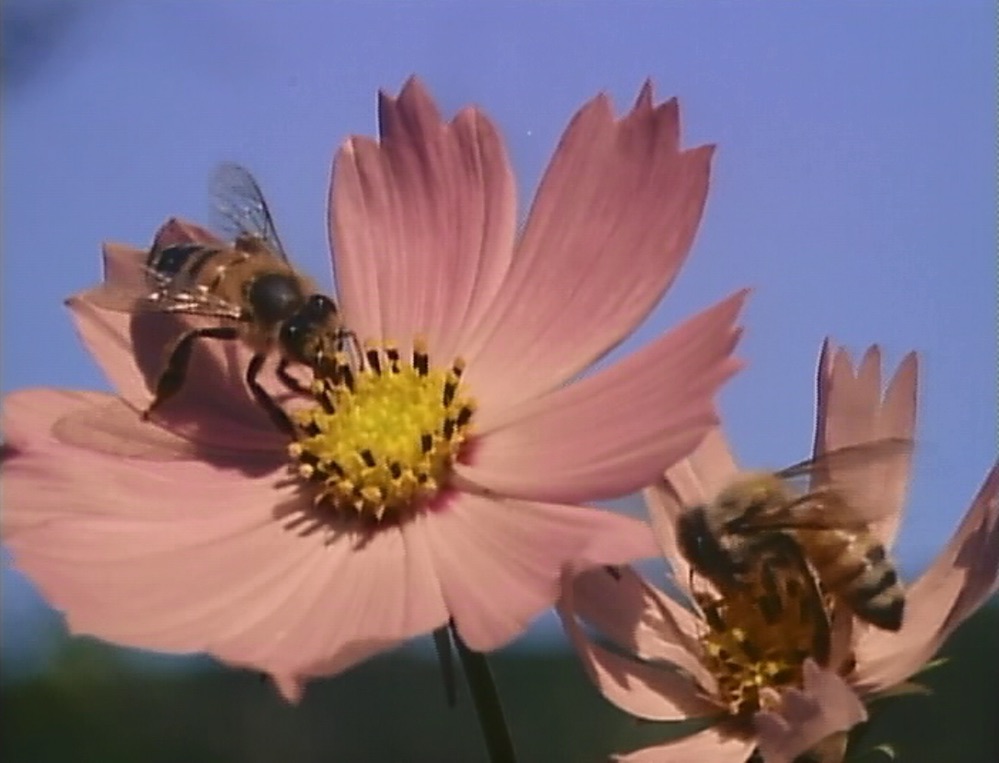 Secret in the Hive
Observe bee society, where thousands of bees maintain a perfectly balanced order with the queen at its center. Showing events such as the dance to transmit information, the system of work division, and warfare with hornets, the camera records in detail a whole society that operates as if it were a single organism.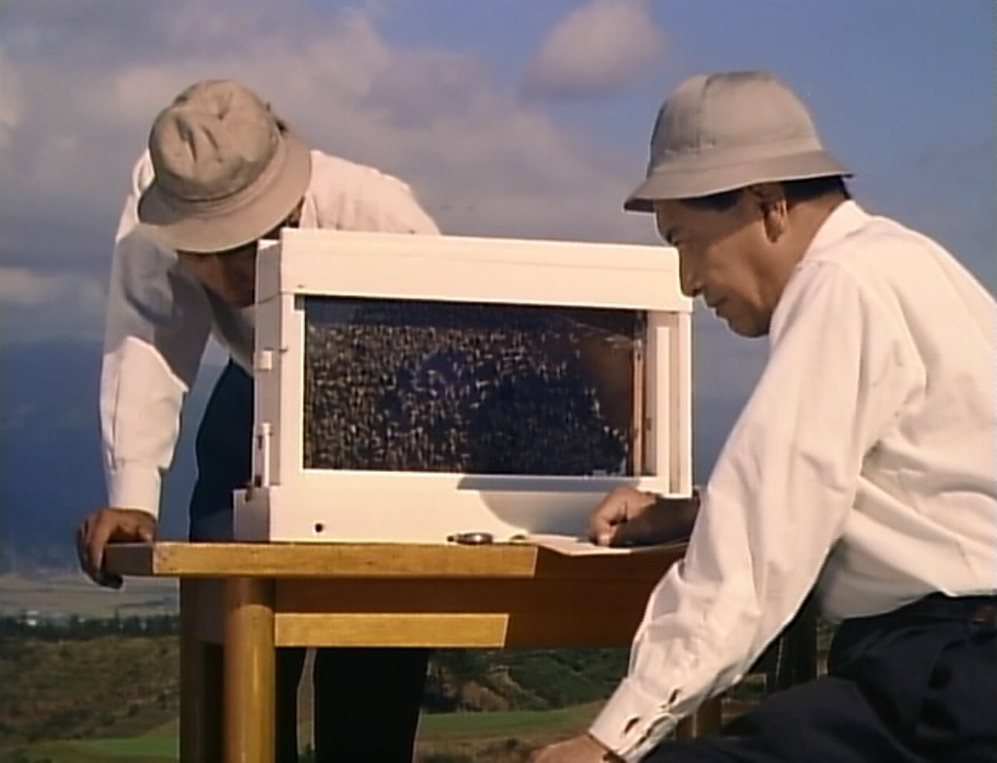 The Life History of Slime Molds
True slime molds originated on earth one billion years ago, and have adapted skillfully to their environment. Micrography captures the plasmodia's rhythmical protoplasmic flow, movement of the slime mold invisible to the naked eye, and more. Higuchi observed this intriguing world of tiny organisms for a long time, completing this tour de force at age ninety-one.
16:00-
(single screening)
Experiments on Microorganisms("Biseibutsu no jikken")
1970/16mm/20 min
Shiitake("Kinoko—Shiitake kin wo saguru")
1980/16mm/28 min
MIdorinaru daichi wo tsukuru—Kin to shokubutsu no kyosei wo ikashite
1995/16mm/24 min
Symbiosis between Fungi and Plants("Kin to shokubutsu no kyosei")
1999/16mm/28 min
Higuchi Genichiro
Born March 14, 1906, in Tendo City, Yamagata Prefecture. While working as a banker, he graduated from an evening course at Meiji University. Aspiring to become a painter, he studied Renaissance art with Kimura Shohachi. After reading an essay on film by Terada Torahiko, he became interested in issues of art and science, and entered the film industry when he was in his thirties. In 1942, he made his directorial debut with Youth Corps, Defenders of the Skies. For the next sixty years, until his final film The World of Mushrooms (2001), completed in his late nineties, he was continuously active as a filmmaker. He is known for his visual research unraveling unknown facts about evolution using time-lapse photography, and his "visual essay" seeking a mechanism to differentiate the cells of cellular slime molds was internationally acclaimed. He died on February 23, 2006, just before his 100th birthday.
Major works: Youth Corps, Defenders of the Skies (1942), Nagasaki Children (1949), Shirohata-jiisan (1952), Silent Battle: The Life of the Pine Moth (1955), The Sakuma Line (1956), The World of Vitamin B1 (1958), The Joy of Science (1958–60), Camera and Shutter (1960), Secret in the Hive (1962), M.I.B. Machine (1964), Nature and Tradition in Shikoku (1965), Thinkin' in the Rain (1966), The Dynamic Flow of Life: An Investigation of the Wonders of the Blood (1967), Nara and Yamato (1968), Ukiyoe (1969), Experiments on Microorganisms(1970), Cultural Treasures along the Wayside (1974), Journey in East Germany (1975), Building on the Rock: A Record of the Construction of the Ikata Nuclear Power Plant (1978), Shiitake (1980), The Life Cycle of Cellular Slime Mold (1982), Nonaka Kenzan: The River Flows On (1987), Kukai, Great Teacher of the Buddhist Law (1988), Behavior and Differentiation of Cellular Slime Mold (1991), The Life History of True Slime Molds (1997), Symbiosis between Fungi and Plants (1999), The World of Mushrooms (2001)
[Venue]The YAMAGATA Documentary Film Library (Yamagata Big Wing 3F)
[Admission]Free admission for members (Member's fee: free)
[Presented by]YIDFF (NPO)
[Contact]e-mail:info@yidff.jp (YIDFF Yamagata office)