Yamagata Biennale 2018 + YIDFF:"Evenings on Cinema Street"
It's the season of Yamagata Biennale 2018, the city's biennial art festival! Upcoming this September, the event will again host a collaboration program with YIDFF titled "Evenings on Cinema Street." In between screenings of documentaries programmed under the festival theme "Like Mountains," there'll be talk events bringing together the festival's artistic director Arai Ryoji, filmmaker Mogi Ayako and one of her protagonists Fukumori Shin (head of Shobu Gakuen), and Chairman of the Tohoku University of Art and Design Negishi Kichitaro. Come one come all for exciting discussions about cinema and art.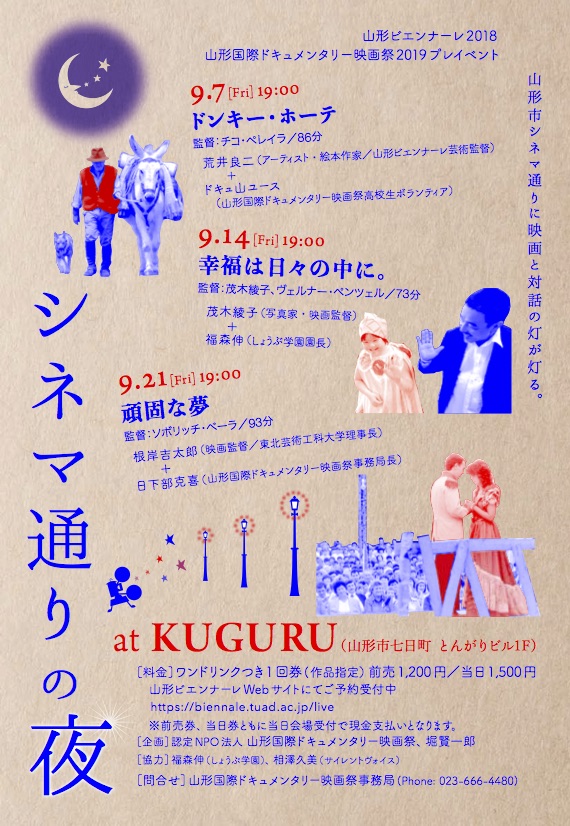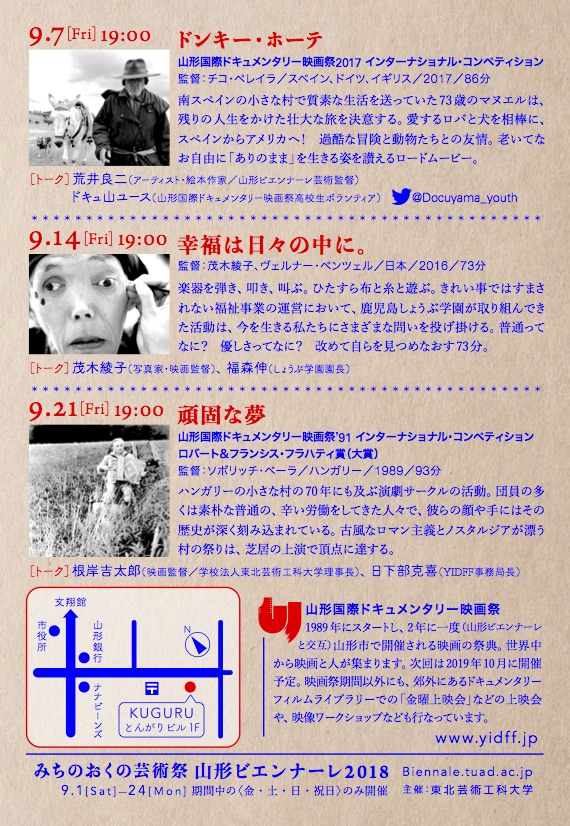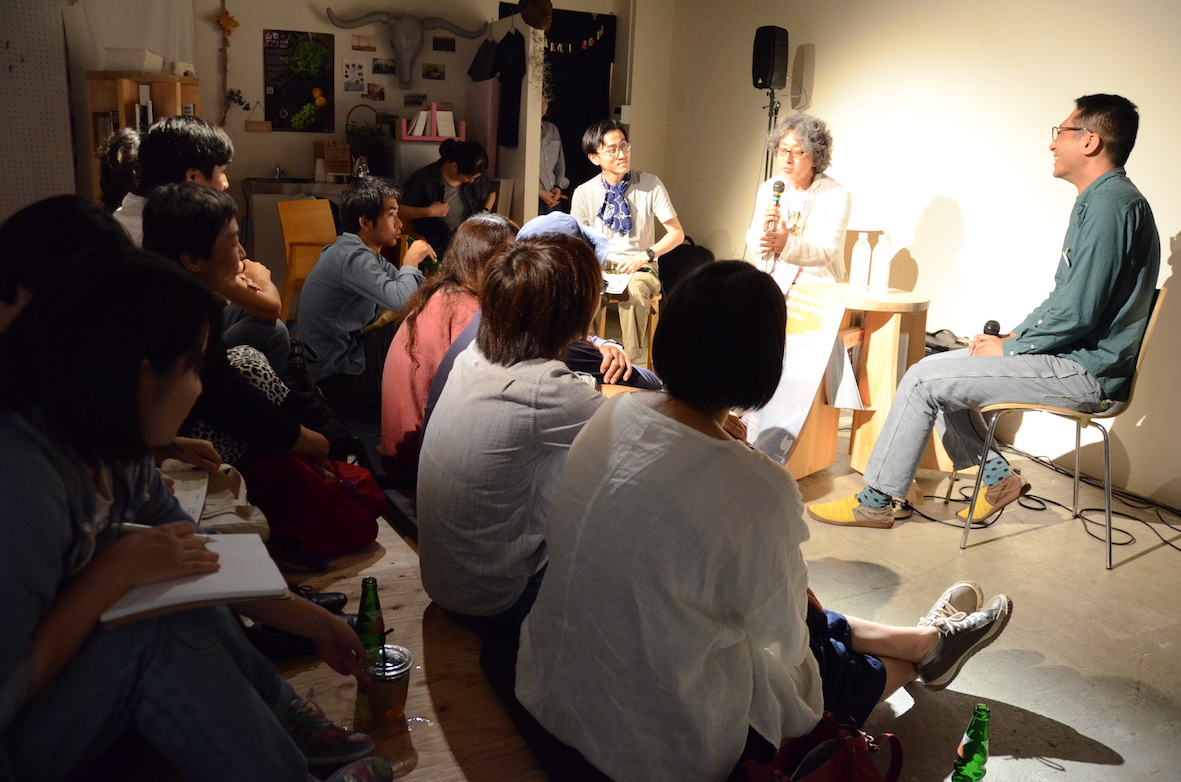 September 7(Fri)19:00
Donkeyote
Talk session with Biennale's artistic director Arai Ryoji will be held after the show.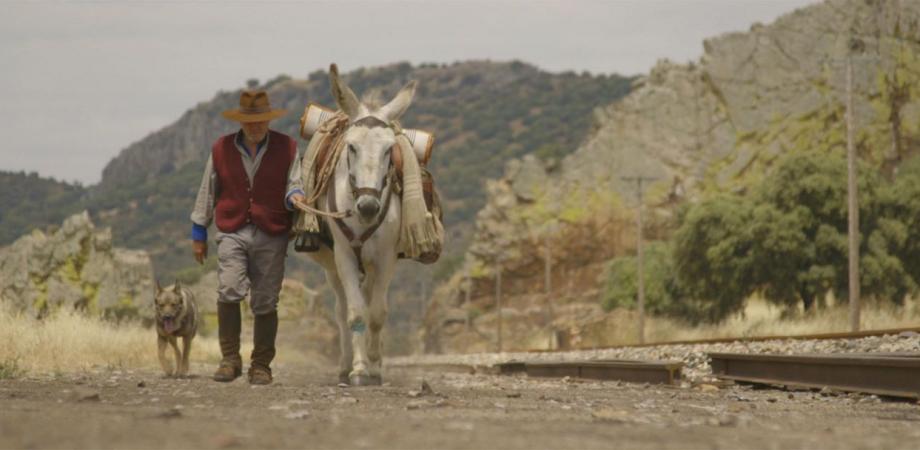 YIDFF 2017 International Competition
Dir: Chico Pereira / SPAIN, GERMANY, UK / 2017 / Bu-ray / 86 min
◆note
73-year-old Manuel, who lives a simple life in a naturally lush village in the south of Spain, decides to throw caution to the wind and set out on an epic journey. He sets his course for the US, accompanied by his beloved donkey and dog. He plans to travel along the Trail of Tears, the 3,500 km route once walked by the Cherokee nation. He proceeds with his severe journey despite heart disease, arthritis, the aches and pains of old age, and even the orders of his doctor. Along the way he fosters a bond with his animal companions that goes beyond the boundaries of species. Will they really reach the US? This is a road movie that celebrates the life of a man trying to be free and true to himself, despite his advanced age.
◆Director's Statement
Manolo (Manuel) has always been an inspiration to me. He is my uncle, and my godfather. When I was a child, he used to take me and his other nephews to the countryside for "adventures," which basically consisted of the sightings of wild animals, fantastic stories about the countryside, or mysterious trips into the unknown. Thinking back, they were ordinary moments that he would turn into fantasy for us. All of us were fascinated by this character and sometimes we would wait at eight in the morning outside our houses to see Manolo passing by, begging him to take us with him. But one day, Manolo divorced from my auntie and a terrible silence became established between the two families. Many years passed with no contact—our relationship was interrupted at some point in our childhood and stayed there, frozen in our memories.
It was Christmas Day 2012 when I visited Manolo. I was about to move to the US and I felt a strong need to see him. I recognized the same man as always: his small eyes, his big ears, his deep voice and his same love for American hats. But something had changed: after two heart attacks, he now walked and walked with his new best friend, a beautiful Andalusian donkey called Gorrión ("Sparrow").
We spent hours talking, and we promised that never again would there be silence between us. We wanted to resume our relationship from the very moment that it had stopped.
This film is both the continuation of a broken relationship, and our biggest adventure together yet. And what a big fantasy a film is!
September 14(Fri)19:00
While We Kiss The Sky
Talk session with director Mogi Ayako and Head of Shobu Gakuen Fukumori Shin will be held after the show.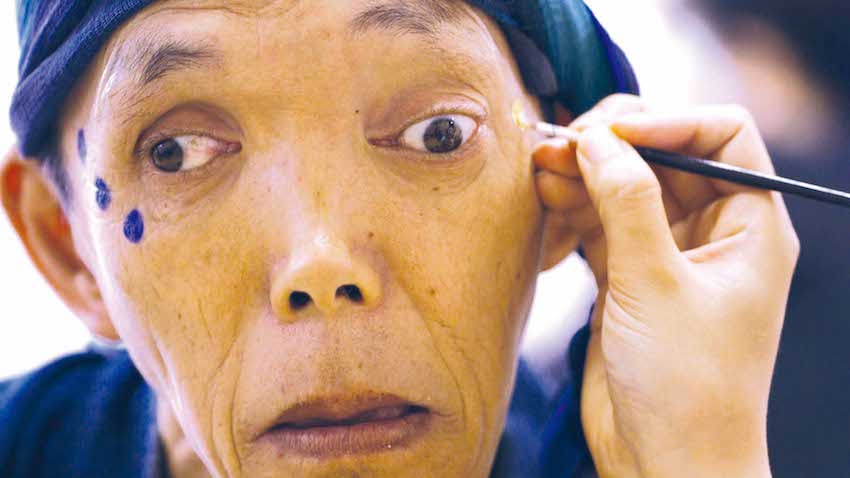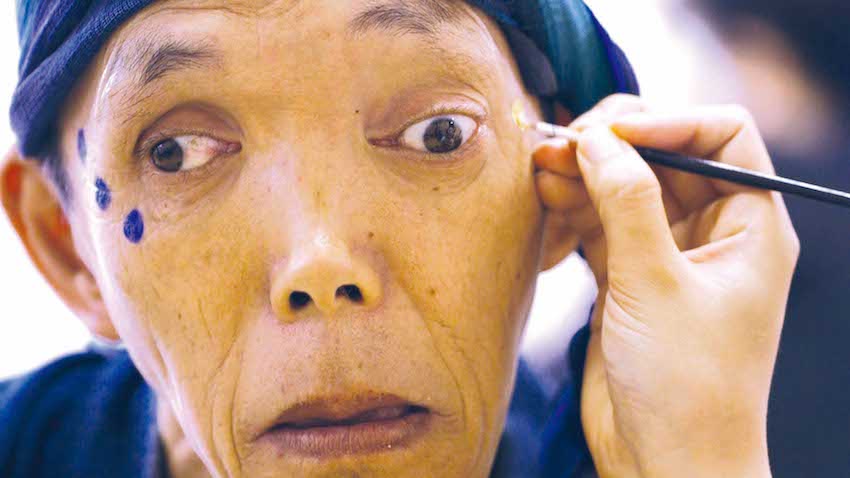 Dir: Mogi Ayako, Werner Penzel / JAPAN / 2016 / Bu-ray / 79 min
September 21(Fri)19:00
Stubborn Dreams
Talk session with filmmaker and Chairman of the Tohoku University of Art and Design Negishi Kichitaro and YIDFF Yamagata Office Director Kusakabe Katsuyoshi will be held after the show.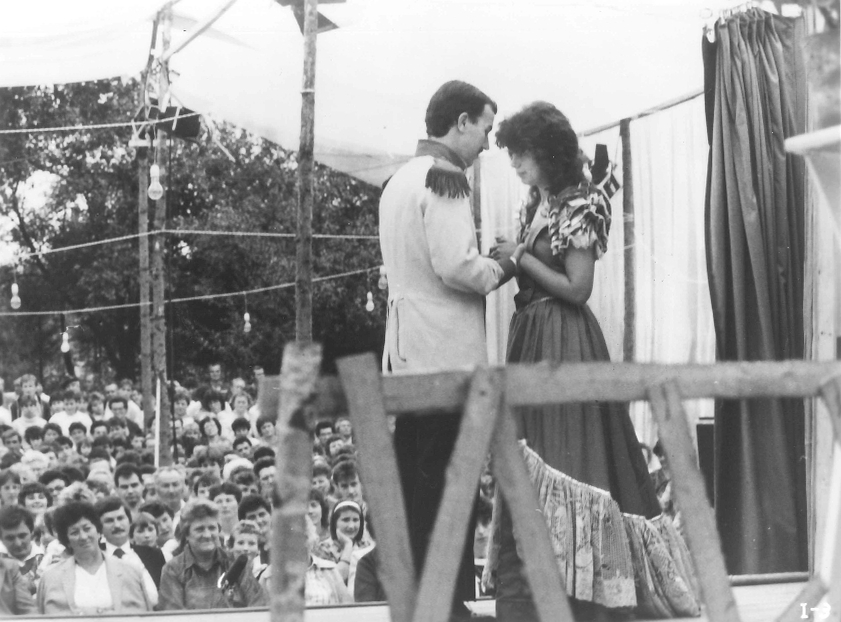 YIDFF '91 International Competition The Robert and Frances Flaherty Prize
Dir: Szobolits Béla / HUNGARY / 1989 / 16mm / 93 min
◆note
Anyone who has seen old MGM musicals with Mickey Rooney and Judy Garland as high-school kids exhorting everyone to "let's put on a show" will recognize the momentum behind Stubborn Dreams. This is no Hollywood movie and its characters are hardly junior high-school kids. Old-world romanticism and nostalgia replaces the infectious but artificial enthusiasm of the MGM musicals. Indeed, the characters—residents of a Hungarian village called Rábagyarmat—are mostly old people reminiscing about the past. They all belong to an amateur drama society which which has staged an annual play since 1920(with intervals, between the war years, and political "lean periods" resulting from the policy of the communist government). In dealing with the checquered history of these amateur thespians, the filmmakers and their subjects turn their movie into a meditation about growing old but sticking to tradition and making something of one's lives.
◆Director's Statement
Behind the beyond, in the village called Rabagyarmat near the border, there has been a theatrical company for seventy years. The person who has been in charge of putting plays on stage and holding the troupe together for 35 years running is Laszlo Acs, the school principal. The railway lines to the village were taken out as an economy measure. its memory is still cherished by the principal. The players form a close-knit community, and the life in the village would be dreary without them. Most members of the company are simple, overworked people who bear a trace of history in their hands and faces; a piece of the past survives in their gestures. When they are free, they spend the time with the company, and they greet the sunrise with the sound of the accordion. They have a subconscious desire for beauty, and an internal driver to break through and to be different. And for a short moment anyone can indeed break through. For a short moment anyone can turn into a star.
* Every talk session will be conducted in Japanese only.
[Venue]KUGURU (1F Tongari Bldg., Nanukamachi 2-7-23, Yamagata City)
[Admission]Advanced ticket: 1,200 yen / Door ticket: 1,500 yen (including one free drink)
* For reservation, please check out the Yamagata Biennale webpage.
[Presented by]Tohoku University of Art and Design, YIDFF (NPO), Hori Ken'ichiro
[Supported by]Fukumori Shin (Shobu Gakuen), Aizawa Kumi (Silent Voice)
[Contact]phone: 023-666-4480 (YIDFF Yamagata office)