Silent All These Years
A universal truth in a personal documentary about deaf parents and the silence that binds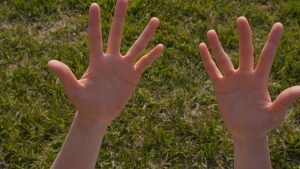 Being enrolled in a "special education" school for most of my elementary and high school years, I grew up with deaf and mute kids around me. Although we did not have a special course designed to teach us sign language, we picked up some of the basic gestures from inevitable interactions with them. With this disability, the deaf and mute kids obviously had to band on their own, drifting in their own silent bubble, while the rest of us with the ability to talk got embroiled in our own chaotic noise. It was easy to understand the difficulty of raising a child with a hearing or speaking defect, but I never imagined it the other way around – where the parents are the ones with the disability. Watching Lee-kil Bora's personal documentary Glittering Hands, which screened as part of the New Asian Currents section of the 2015 Yamagata International Documentary Film Festival, I remembered having one schoolmate who had deaf parents and it was only then that it occurred to me how oblivious I was to this facet of dealing with disability.
Essentially, Lee-kil's film resembles and has the feel of a personal home video with various VHS clips interspersed with interviews. The first half of the documentary traces the history of the filmmaker's deaf parents, quickly establishing their story – how they met, got married and had children. The film's other half focuses on Lee-kil's story and that of her brother, as they narrate their experiences growing up with their parents. These stories show that the burden is shared — it is heartbreaking to hear both the filmmaker and her brother echo the same feeling: "the disability label was on me" — and that understanding and patience was the currency that allowed them to navigate the silence between their two disparate worlds ("words couldn't capture, only silence could"). Lee-kil shatters the clichéd concept of a dysfunctional family, a subject matter so relentlessly overplayed in narrative dramas.
While the director interviews her parents, she limits her participation and allows them to openly engage in conversation about how difficult it was to raise children and their plans to buy a country house, capturing both recollection and insight, personal history and the nuances in their relationship. In sign language, they attempt to recreate memories of a past, without being regretful, and this same language, despite its codes and symbols, assures us that something that is innately genuine cannot be lost in translation. The parents' exchanges are filled with light and funny moments, conveying their humanity and authenticity, while our awareness of their disability vanishes in the flurry of hand gestures and intermittent sounds that come out of their animated conversations.
The director uses a collection of snippets from an archive of home videos, presumably taken by her parents (especially the one showing her growing up). This mode of recording already hints at the importance of imagery and visual communication, not just as a means of understanding in a world governed by silence, but also as an act of memory-making and preservation. Lee-kil's directorial touches exhibit a keen understanding of the human condition in the way she balances what could have been a heavily emotional story with humor. Although during the Q&A for the film, Lee-kil said that she intended her film as a platform for awareness and advocacy, what is really striking and compelling is that the film becomes an act of self-rediscovery and introspection, embodying the possibility of learning a newer, more holistic truth through the medium of film. And this is where Glittering Hands excels as a piece of cinema – Lee-kil has made something universal out of the very personal. (Jay Rosas)