The Yamagata Film Criticism Workshop will take place for the forth time during YIDFF 2019. This project encourages thoughtful writing on and discussion of cinema, while offering aspiring film critics the chance to immerse themselves in the lively atmosphere of a film festival.
Four Lives in Reflection
On Invisible Actors (Boiji anhneun baeu deul), directed by Chae Hyeong-sik. South Korea, 2018. Presented at YIDFF 2019 in New Asian Currents.
by Kosuke Fujiki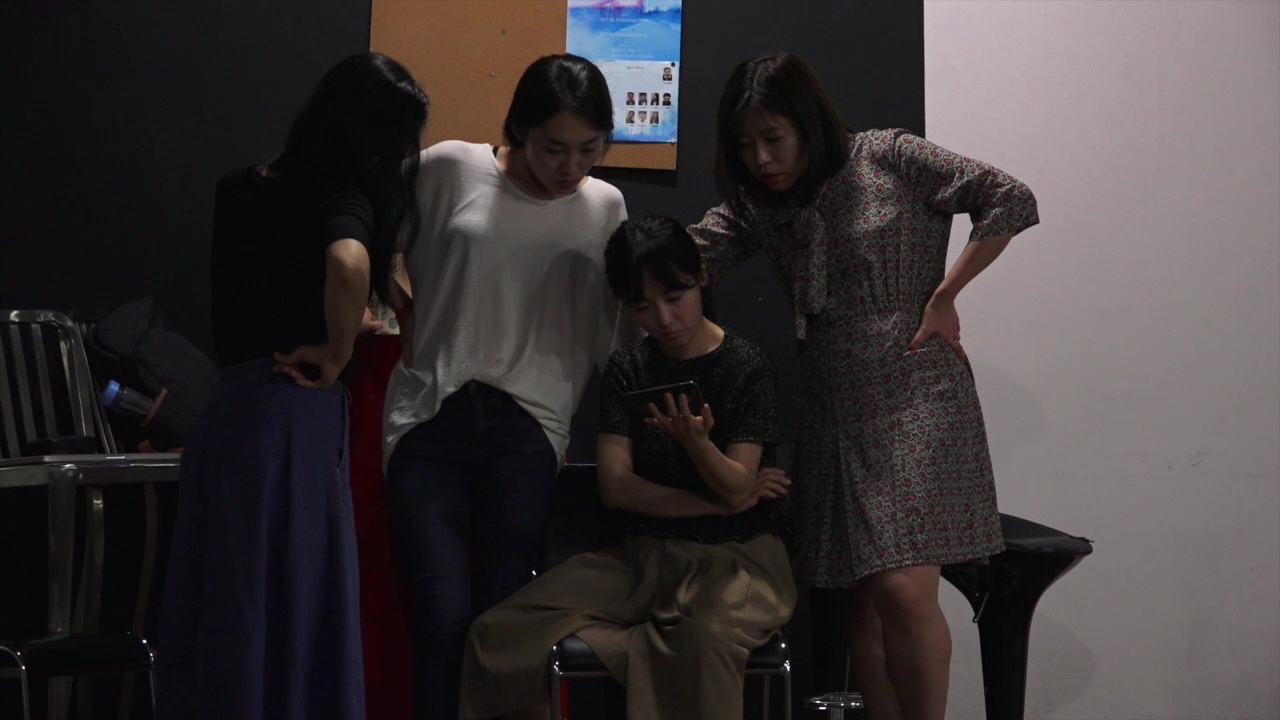 "What is documentary? While fiction shows a reality by reenacting it, documentary does so by quoting it." This text, one of the many intertitles that pepper Chae Hyeong-sik's Invisible Actors, invites us to muse on the relationship between reality and documentary, while also commenting on the unusual structure of the film, built on frequent transitions between the two modes of reenactment and quotation.
The film's protagonists are four struggling actresses: You-lim, Ji-hye, Moon-young, and Joo-yeon. As the film follows their not-so-glamorous daily routines, they are fully aware that they are being filmed. In fact, as is revealed early in the film, they are acting for the camera, having discussed their daily lives and decided upon what is to be filmed. At each of their meetings, held every two or three weeks, the actresses voice their lack of confidence and their concerns over the precarious status of their profession as well as their marginalized position as women in Korean society. In mockumentary sequences, each actress reenacts such experiences as living alone in a squalid apartment, being snubbed at job interviews and auditions, having to work part-time to make ends meet, and being constantly worried by their family. In these sequences, the camera often lingers on the scene even after the actress leaves the frame, as if to suggest that what it strives to capture is not simply these individual actresses, but rather the unsympathetic environment in which their sufferings are rendered invisible.
Through a series of discussions and reconstructions of the four actresses' lives, the film enables the women to reflect on both their personal and social realities. Reflection is a key motif not only on the thematic level, but also on the visual level. As Joo-young obsessively scrubs the floor of her apartment, she is filmed as a reflection in a standing full-length mirror. Ji-hye's despondent face following a rough job interview is shown reflected on a window on a subway train. You-lim reads out her past notes, reminiscing about the anxieties and aspirations of her younger self. And Moon-young reenacts her unsuccessful audition by playing both the interviewer and the auditionee, digitally sutured into a single shot. These scenes of visualized reflections hint that the film's intervention encourages the protagonists to come to a deeper understanding of themselves.
Chae's self-reflective filmmaking expands the scope of what a documentary film can do to reality. Rather than concealing the filmmaker's intervention and pretending to offer an unmediated record of reality, the film foregrounds its medial nature and uses it in a productive way. Even though Chae never appears on screen, his directorial presence is palpable throughout the film, serving as a catalyst that drives the protagonists toward self-awareness.